Alipay drive to store APP
EGGsist – Alipay Marketing Partner – in UK
and Italy offers a new service dedicated to the Retail world
Want to reach the Chinese consumers and drive them to your point of Sales?
Discover EGGsist Alipay Marketing Solutions and start to
connect your business with Chinese outbound tourism
Alipay: China's leading third-party mobile and online payment platform
Alipay is a must-have payment method for any business willing to attract Chinese consumers' attention overseas.
Established in 2004 by Alibaba Group, is now available in 70 markets and it has already been adopted by over 570 thousand merchants in Europe.
Trusted by 1 billion users worldwide it is no longer just a payment platform, but it has become a Lifestyle super APP providing city services, credit services, medical services and shopping.
In fact, while browsing the Alipay App, users will be able to see information about their most-loved brands.
Alipay is perfectly aware of Chinese consumers' daily behavior, accustomed to using their smartphone anytime and anywhere.

Through Alipay Marketing Solutions merchants can seize this opportunity,  gain more visibility and successfully connect their business to a staggering number of Outbound Chinese tourists before, during and after their trip.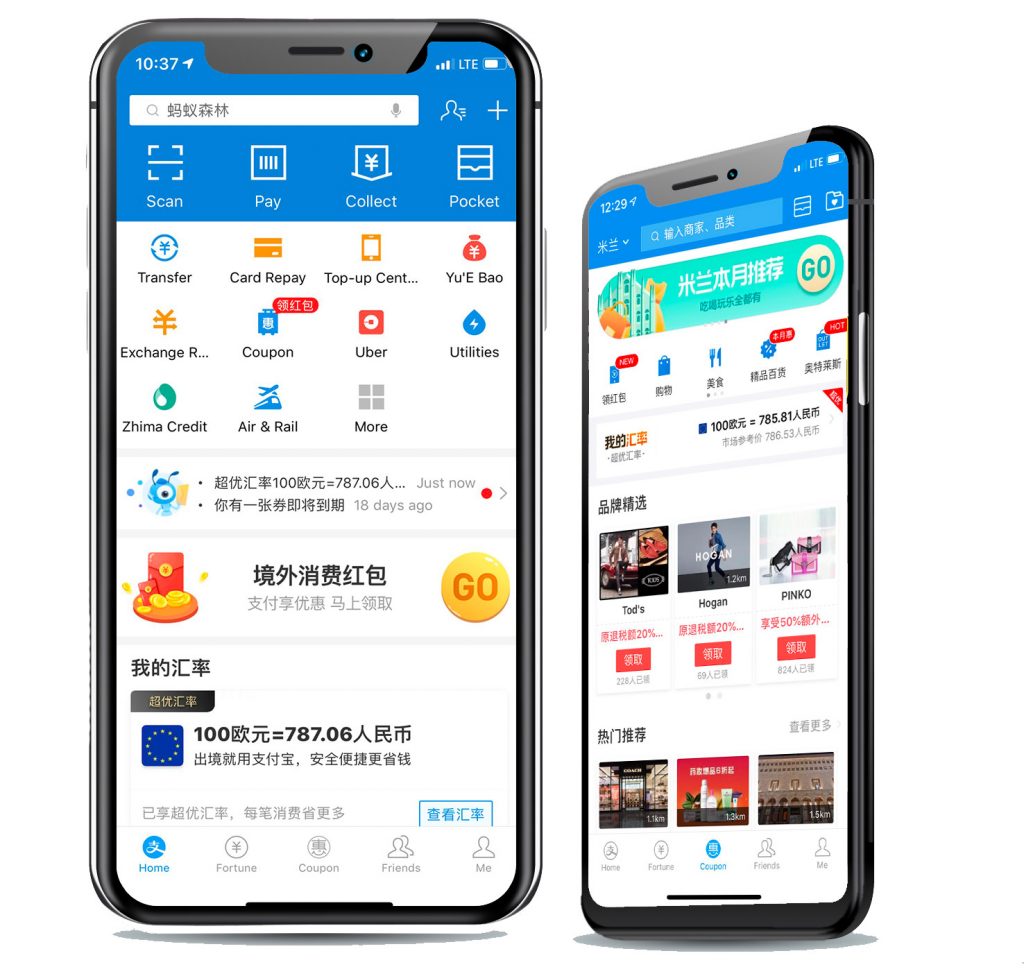 In 2019 China Outbound tourists will reach 162 million and many of them will choose Europe as their first destination. Analyse this audience's different habits and costumes is essential when creating an accurate digital marketing strategy. In fact, Chinese tourists, while traveling abroad, prefer to use their smartphone for any type of activities, especially when they need to processing payments. EGGsist, through its Alipay Marketing Solutions services , is able to successfully support your business, help you reach new Chinese consumers, drive them to your stores and improve your revenue.
How to unleash your business with Alipay
Alipay is able to customize the merchants' needs designing digital marketing campaigns and online 2 offline activities. The Super APP can offer to Chinese consumers a smart and immersive spending experience.
Open an online store

The Chinese consumers want to track down, on the APP, the information of the store where are willing to buy. For this reason, the first step to intrigue uploading the information and image of your offline selling point.

Gain more visibility

Alipay serves its clients giving them the possibility to use the APP as an e-spot for marketing activities. Chinese mobile users can directly land to your storefront by clicking on the banner located on the city page of the APP.

Involve your clients with discounts and coupons

Chinese consumers go crazy for discount and coupon. Since the market is saturated with brand names, a coupon makes a huge difference, helping the brand to stand out its target consumers and attract new Chinese tourists.

Understand your mobile Chinese audience

EGGsist will give you a detailed report about your Alipay marketing campaign' results. You will get a clear overview about transaction detail, the number of coupons collected, user profile (demographic, gender, financial profile, Alipay membership grade, and so on) and other useful data of your Chinese audience.

Dress in "red" your store

EGGsist combines online to offline activities, organizing events in store during the Chinese peak travel season and main holidays. For example, the Golden Week and Chinese New Year are the ideal moments to plan your offline strategy and attract the Chinese customers to your store.
EGGsist, Alipay Marketing Partner

Alipay Super APP