Expanding your
Digital Audience
Unlocks Endless Opportunities
Let's create more digital businesses, get consumers' attention and succeed in the Chinese market! Don't forget to discover our live-streaming solutions, available for the International market
EGGsist Digital & Social Media services
Essential when approaching the Chinese market is to deeply understand its digital ecosystem and how its users prefer to interact and engage.
The first step is to set an actionable roadmap and identify the right mix of digital and social media tools that support your business in delivering the desired outcome!
We partner with the top players in the digital and tech sectors such as Alipay, WeChat, Baidu, Bytedance, and Secoo to create tailor-made solutions and powerful shopping experiences.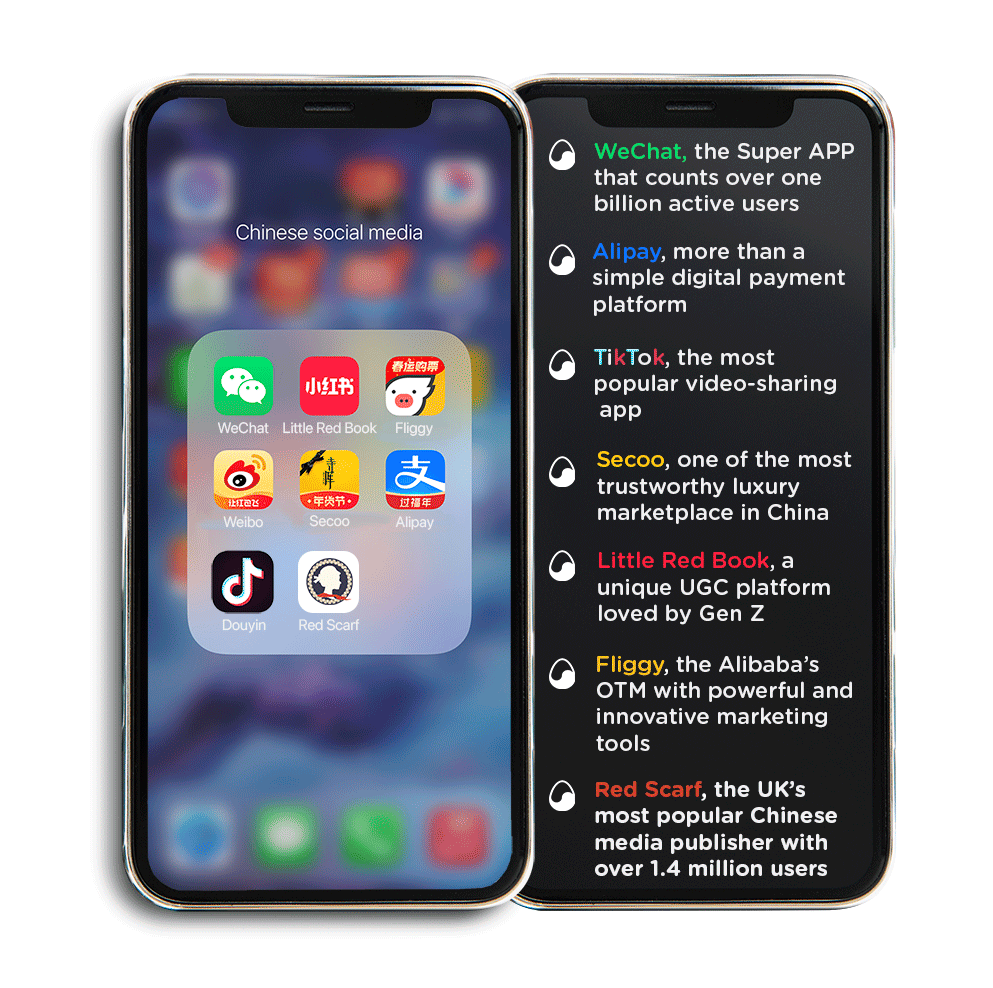 Our solutions for the International and Chinese market at a glance
Market Entry Strategy

China digital marketing

Media Buying

Cross Border eCommerce

Live Streaming solution

Influencer & KOL marketing
Secoo CBEC
If your business goal is selling to Chinese shoppers, it's abundantly clear that cross-border eCommerce is the way to go. Another step to ensure your business success? Live-streaming, an excellent way to connect with your Chinese target audience!
Alipay Digital Retail solution
The New Retail concept is a steady-growing trend now spreading at a frenetic pace in Europe and the UK!
Thanks to Alipay, EGGsist can build successful, customer-centric strategies, such as Drive to Commerce, Drive to Store and Membership program solutions, to support brands in raising traffic to their O2O stores and selling directly to Chinese shoppers.
WeChat
WeChat is the most popular social networking app in China, with over 1.3 billion active users. Thanks to Official Accounts and mini-programs brands can connect to their customers in an engaging and interactive way.
KOL & influencer marketing
In China, influencers, otherwise known as Key Opinion Leaders (KOLs) or KOC, are excellent marketing strategies who attract online exposure.
Word-of-mouth is a vital brand-building tool to turn potential customers into brand lovers on Douyin and Little Red Book, two of the most popular Chinese social media platforms.
Live Streaming solution
Ready to engage potential consumers worldwide with more personalized experiences?
Then you cannot miss the opportunity to boost online sales and interact in real-time with your audience thanks to our live-streaming product.
For the Chinese market, we provide cutting-edge solutions with Alipay and Secoo
Software development
We develop websites, mobile apps, WeChat mini-sites, and mini-programs.
We integrate your corporate IT infrastructure with Chinese communication and sales channels.
Ready to work together?
Tell us your project and let's navigate the pace of digital and social commerce change
Our partners

Home page eggsist.com/en