Start selling into the biggest online e-commerce market with Secoo
China is the world's largest social commerce market, estimated to reach 2,419.4 billion yuan in 2022 and with a pool of potential targeted consumers that will account for nearly 50% of the total luxury market by 2025. The increasingly competitive digital world we are now living in makes it harder for International brands to truly stand out and keep up with the latest trends.
Therefore, what are the main drivers of success? How can your business effectively connect with Chinese consumers and drive performances?
One of the easiest ways to enter the Chinese market is through Cross-border eCommerce and live sales-streaming strategies, that are taking off in China! With Secoo, one of the leading O2O platforms and the largest online luxury retailer in China, you will have the opportunity to engage millions of potential consumers during specific moments like Single Day, Black Friday, Double 12, and many others.
For further info, don't forget to download our report #BeyondCNY, for a deep dive into the latest digital trends and China's largest online shopping festival
Inside Secoo O2O world
Secoo is one of the largest online integrated upscale products and services CBEC platforms entirely dedicated to Fashion & Luxury Industries, with more than 30 million active users, 100 thousand DAU, and a total market share of 25,3% in China.
Thanks to its Online to Offline model, brands can provide high-quality customer-centric experiences, selling their products by cross-border and recording sales-streaming directly from their stores. What's even more interesting are Secoo logistic and storage services!
In fact, Secoo has established a logistics and delivery network with worldwide coverage. Further, the company works closely with reputable global and domestic third-party delivery companies to ensure reliable and timely delivery.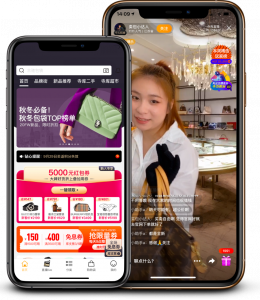 Then, why should you implement Secoo?
Sell products directly in China

Shipping your products in China can be a great challenge nowadays: customs, bureaucracy, warehouse can represent an important cost. Thanks to its Via "overseas warehouse + bonded warehouse" model and 5-min speedy custom clearance, SECOO resolves cross-border e-commerce logistics common challenges and provides consumers a smooth cross-border shopping experience.

Trusted and reputable shipment service

SECOO owns a global luxury cross-border e-commerce integrated logistic platform, including Beijing, Hongkong, Milan logistics center, which offers also product authentication, maintenance and photographing services. Not least, SECOO's inventory accuracy is controlled up to 99.99%, timely picking rate of self-owned merchandise within 30 min is up to 98% and delivery rate within 72 hours is over 95%.

Design effective sales strategy

As businesses strive for deeper engagement with consumers, it is even more essential to create successful, creative and content-first strategy during sales peak moments, such as double eleven (single's day), Double twelve 12.12, 618 shopping festival, and 520 Valentine's day.  Plan with EGGsist your next online campaign and bring value to your brand

Promote your brand through Live streaming

China's live streaming e-commerce sector is about to reach 1.05 trillion RMB in 2020! As Chinese consumers crave immersive experiences and personalized recommendations, it is imperative for businesses to implement pertinent content. With Secoo, you will have the opportunity to connect with a potential audience pool of 2.000-10.000 per streaming session, always ready to shop LIVE!
Promo Campaigns
A successful Ecommerce is an online store able to constantly attract buyers. EGGsist is able to guide you in the realization of
seasonal and promotional campaigns (flash sales, KOL, content
marketing, pop-up shops, and much more) to support your sales.
Are you ready?
Tell us your project. Our advisors will guide you towards your digital internationalisation in China
Cross border Ecommerce