Since 2011, WeChat has revolutionized the way Chinese people communicate and use digital devices. We want to celebrate a decade of WeChat influence with this EGGsist insight, which dives into the growth strategy that led to its milestones and aspirational achievements.
Let's check how this APP grew to be one of the most popular social media globally, scaling from 0 to more than over 1 billion users in just ten years!
2010
And the story goes…
It all started with an email Allen Zhang 张小龙 sent to Tencent CEO, Pony Ma 马化腾…
January 2011
A Social-tech Goliath is born!
On January 21st, 2011, Weixin 微信 was officially launched in China as a simple messaging and photo-sharing app. Can you guess how many engineers were involved in this "bold" project? Just seven! A few months after launch, it became an instant hit, and in the short span of 433 days, it reached over 100 million registered users!
A couple of months later, some features debuted online like optimized video clips sharing and the famous and highly discussed "shake" a.k.a. "find nearby".
Just shake your smartphone and discover new friends around you can chat with!
April 2012:
A new feature at the center stage: Moments
From that "moment", users could share their experiences, memories through messages, photos, and videos.
Tencent WeChat goes global
It is the exact time when the team realizes the importance of expanding their business internationally. By changing the name from Weixin to WeChat, this intention was quite explicit: now the APP is available in English, Thai, Vietnamese, Indonesian, and Portuguese languages.
July 2012:
Tencent opens up WeChat to brands accounts
In the same year, Wechat Official Account was launched. It was also a unique occasion for international businesses to leap on board and interact with a massive audience.

How could brands encourage new potential consumers to follow them? By scanning QR codes, of course.
After only 6 months, a 200 million registered user target was achieved. Its communication capabilities were enhanced by video and audio call features.
August 2013:
Welcome to a new era of digital payment!
In August, WeChat Pay finally debuted online: the mobile payments feature was launched, which turn WeChat into one of the biggest cashless payment apps!
At the end of the year, WeChat promoted the app worldwide with a big campaign with TV ads and out-of-home billboards, involving star system celebrities such as the famous football player Messi.
January 2014:
Digital Hongbaos gamble
Alongside payment features, WeChat developers thought of a simple, yet effective way to rethink one of the oldest Chinese traditions: digital hongbao (red envelopes) straight on your smartphone! The first try skyrocketed: more than half a billion RMB worth of red envelopes were sent out.
May 2014:
Another big move for the Chinese tech giant: WeChat store
Another feature is about to rollout: it's time for WeChat stores to shine. From May 2014, any brand account can open its built-in shop.
January 2015
A new promotional form to compete for users attention
That year started with the launch of ads inside the Moments section: brands can now build promotions!
In March, WeChat reached the half a billion users milestone.
Fun fact: over 400 million people are using Mini programs daily by 2020. What is even more exceptional is that the annual transaction via mini-programs exceed US$ 240 billion
2016
Overseas, let's scan and pay!
WeChat pay goes global: now Chinese tourists can scan QR codes and pay just as in their home country when traveling overseas.
January 2017
Did you say mini-programs?
Mini programs launched, this sophisticated and innovative feature transformed WeChat as OS per se. In just a few months, thousands of brands started building their mini-program. 2017 is also important because WeChat launched its search engine.
2018
Can't get enough of WeChat!
WeChat continues to improve, establish records and get over one billion monthly active users on the platform.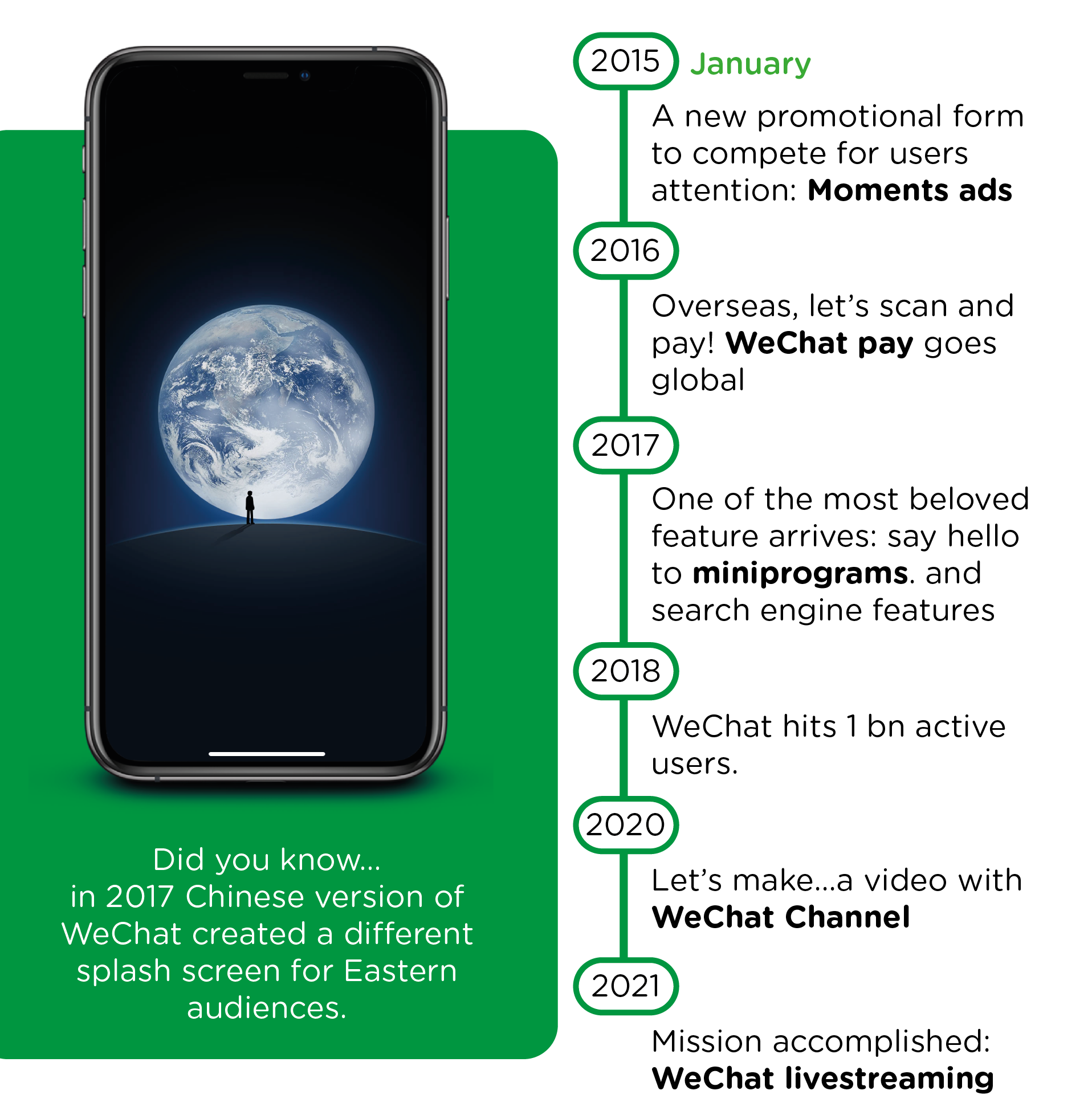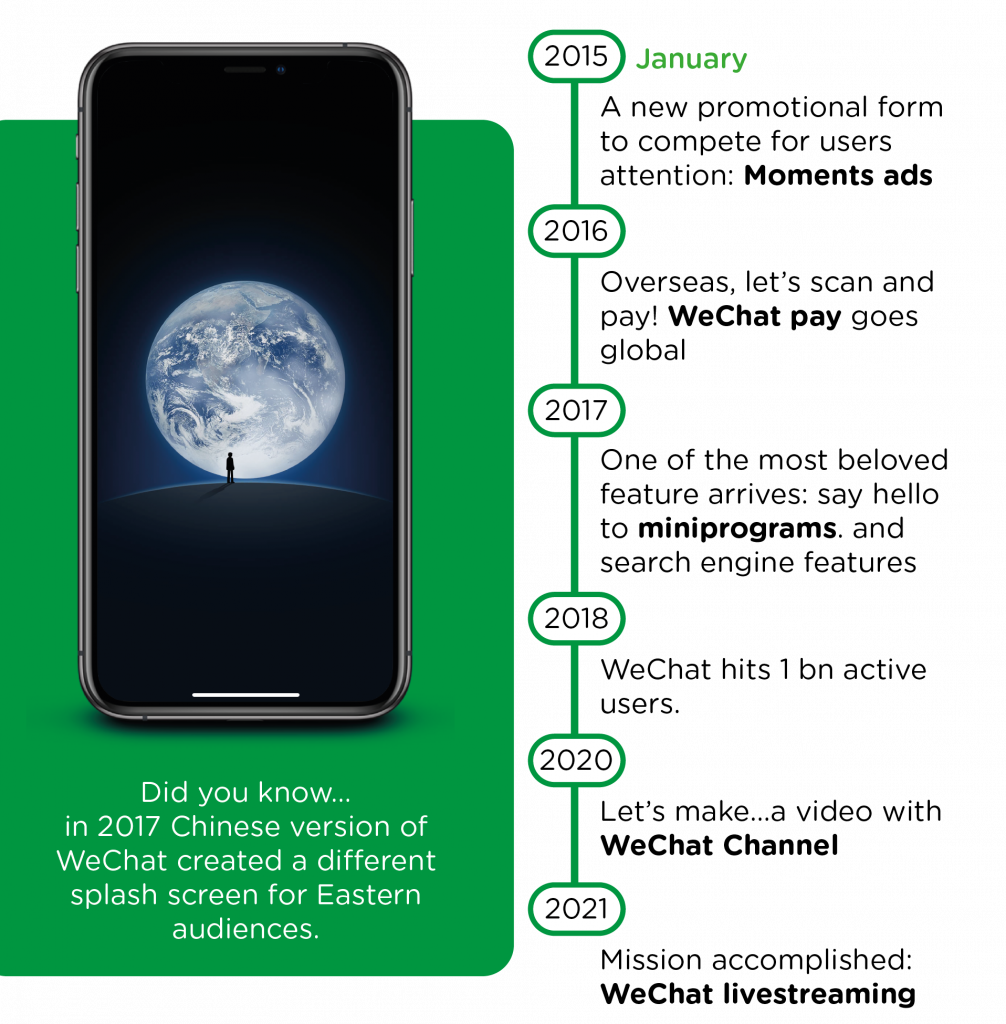 2019
The Super APP empowered moments with its new Instagram-like stories feature.
January 2020
Let's make…a video with WeChat Channel
WeChat broadens its horizons with a new feature labeled "Channel", where users can explore media accounts, videos from brands, stars, and celebrities.
Last but not least: WeChat made its search engine more powerful than ever by the acquisition of Sougou, and reached over 1.17 billion.
January 2021:
Mission accomplished
The Super APP gets more social vibes with the new Live Streaming feature. Will it be the start of a new era for the "chatting" app?
Here's the last fun fact: since 2011, WeChat splash screen, called Blue Marble, is a photo of the planet earth shot during the Seventies, showing the African continent. This has never changed until 2017. Now, the Chinese version of the app shows the eastern Asian continent picture, taken by a Chinese satellite.
Nowadays, WeChat plays a fundamental role in Chinese people's daily life.
Advertising
Store
Payments
Cross-border eCommerce
Search
KOL marketing
Customer service
Moments
Those are just some of the main functionalities offered by the app.
So, what's your take?
You can't miss the unique opportunity to connect with over one billion potential customers, build more interactive and personalized shopping experiences, that is eventually what Chinese consumers are eager for!
With EGGsist, you can start turning your brand into a WeChat superstar by building your unique identity on the app and get in touch with thousands of potential customers.
Plus, you can push content directly through programmatic ads on the sections built-in WeChat, or sell within your store. Possibilities are endless!
Leggi l'articolo